NEW STORE HOURS EFFECTIVE MARCH 7th 2016
SUNDAY 1:30-5:30 pm
MONDAY- TUESDAY    CLOSED
WEDNESDAY-FRIDAY 11-6pm
SATURDAY 10-6pm

nce upon a time in a bead shop located in Oldtown Helena, Alabama…
W
e have a complete assortment of beading supplies for the beginner or pro to make beautiful jewelry and a large selection of ready made jewelry.
W
hat makes The Bead Biz unique is that you can come in and use our tools and assistance to make beautiful jewelry right in our store. Please feel free to bring your own beads, tools, and supplies; however, you are more than welcome just to drop in and use ours. Or, just drop in to visit; friendly faces, bead kitties, and beautiful beads are always happy to see you.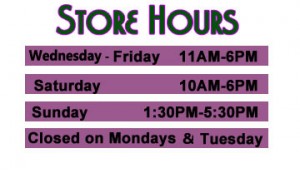 ontact us at…
The Bead Biz
3745 Helena Rd. Suite 100 Helena, Alabama 35080 email us: lora@thebeadbiz.com (205) 621-2426

ollow Us…
on
Facebook
We have changed our Store Hours.
The store will now be closed on Mondays and Tuesdays.