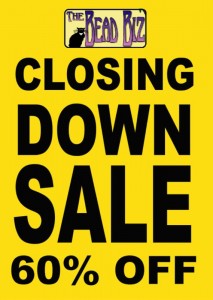 We are no longer taking any repairs
No more classes til Beadapalooza 2017
All gift cards must be used by Friday September 30th. No exceptions.
All sales are final.
No returns or exchanges.
This is the point and time of my life that I have been working towards for all of these years.
The Bead Biz has been one of the most important chapters in my life. Like a good book, it too must come to an end. I have had ups and downs in my life over the past 15 years, but the Bead Biz has always been there to help me pull through to the next chapter. Many a friendship has been made over beads and coffee for me and many others. Creativity has run wild, laughter and tears, joy and sadness have made The Bead Biz a happening place to be. I am very proud of all that we have accomplished with the business, and I feel it is time to move on to new adventures. Even though the store is closing this is not the end…..
We will begin the "Store Closing" on Saturday, September 10th at 10am with a big sale and a whole truckload of extra closeouts stuffed into the trunkshow room. This is your chance to stock up on all your supplies. 30% off everything in the store plus 30% in the trunkshow room.
NEW STORE HOURS
TUESDAY-FRIDAY 11-6
SATURDAY 10-6
SUNDAY 1-6.
Just because the brick and mortar store is closing does not mean that this is the end of The Bead Biz. We will be announcing great new events in the future; including Trunkshows, Reunions, and more Beadapaloozas.
Stay tuned for future "Store Closing" updates, and you want to shop early for the best selections. Stop by, have another cup of coffee, and share your favorite memories.
Just because we are closing doesn't mean bottom-of-the-barrel merchandise. We will have trucks arriving constantly with new and unique products and basic supplies.
Trunkshow Room will have ……
Over 800 lbs of Chinese Crystal
large whole Pearls Galore
Miles of Beaded Chain
Tons of Gemstones
Fabulous amounts of Fire Polished
Czech Glass and lots more.
Thank You for your support and love,
Lora

ontact us at… The Bead Biz 3745 Helena Rd. Suite 100 Helena, Alabama 35080 email us: lora@thebeadbiz.com (205) 621-2426

ollow Us…
on
Facebook
We have changed our Store Hours.
The store is closed on Mondays.
Open
TUESDAY-FRIDAY 11-6
SATURDAY 10-6
SUNDAY 1-6.